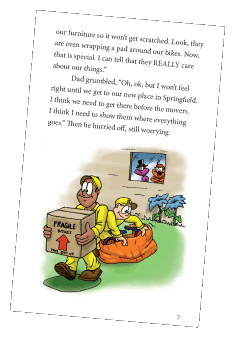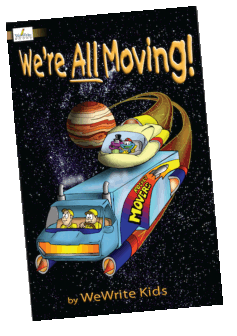 We're

All

Moving!
by WeWrite Kids is:
Kid-imagined
Professionally-illustrated
About aliens moving to Earth
Give books away to families, doctors' offices, schools, libraries.
Tip: Put your contact information inside to create a long-term presence.
Books stay in the community; people don't throw away books.
Distinguish yourself from others by showing you care!
Adults see you care about their community, their children, and literacy. Includes moving tips and more.

"

When I saw the WeWrite book idea, I thought, 'what a creative and unique way to give back to my community and show that I care about the whole family.' It's something fun and meaningful.

"
—Laura Lasnik, Realtor, Keller Williams Realty, California
http://lauralasnik.yourkwagent.com/
---
Kids see a fun-to-read book and identify with the alien kids and their feelings about moving.

"

I really like WeWrite books. The made-up characters are cool. They are fun stories.

"
—Joshua K, Future Adult, age 9, Tennesse
---
What They Say…
Moving Association Director

"

This book is a natural marketing tool for customers to help the little kids who are moving become more comfortable with the dramatic changes in their lives that moving always brings.

"
—Patricia McLaughlin, Executive Director, IMAWA, Springfield, IL
imawa.com
---
Realtor

"

Our team is excited. We will be giving it to our clients so they have a tool to use when speaking with their family about moving.

"
—Kathie Gomes, Realtor®, CRS, SRES, Keller Williams Realty - Santa Cruz, CA
mg4homes.com
---
Insurance Professional

"

I marveled at the WeWrite concept of tapping into the creative wisdom of children… (who) can present complicated issues and ease family discussions by their simple, yet profound questions.

"
—Eleanor Mohammed, Agency Field Consultant, State Farm Insurance - Monterey, CA
myagencycareer.com
---
Commercial Realtor

"

The WeWrite book process and books will mentor children for years in positive, creative, and encouraging ways. What a way to help our future leaders shine!

"
—Link LeGrande, CCIM, Keller Williams Legacy - San Antonio, TX
kwcommercialsa.com
---
Company Owner

"

I just read your new book. It is awesome. I love how the message is delivered to all.

"
—Reesa Abrams, COO, TechCycle3, Santa Cruz, CA
techcycle3.com
---
Electric Vehicle Company Owner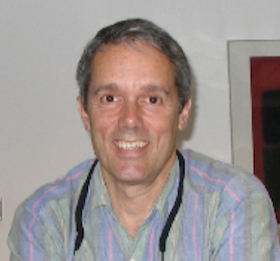 "

I like the idea of allowing kids to create the story instead of adults because the kids haven't learned to be limited as to what 'can't be done' yet. It's the same reason that kids get the Tango. I've presented my idea to adults and kids from all over and the kids 'get it' right away.

"
—Rick Woodbury, President, Commuter Cars Corporation
commutercars.com
---