News
WeWrite Participates in "Day on the Bay" - 2016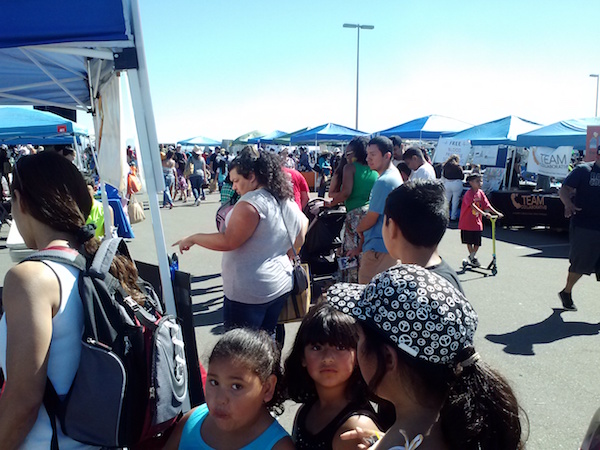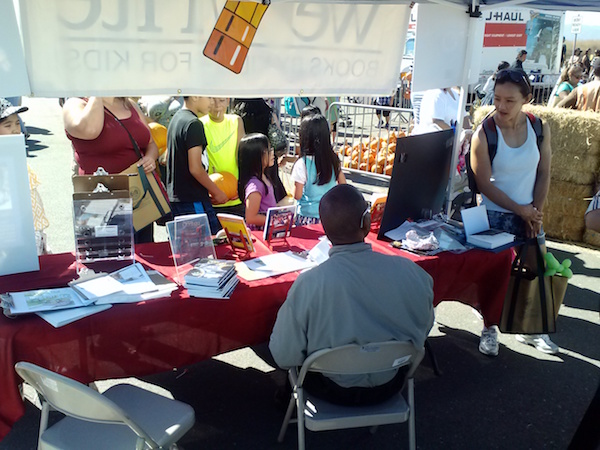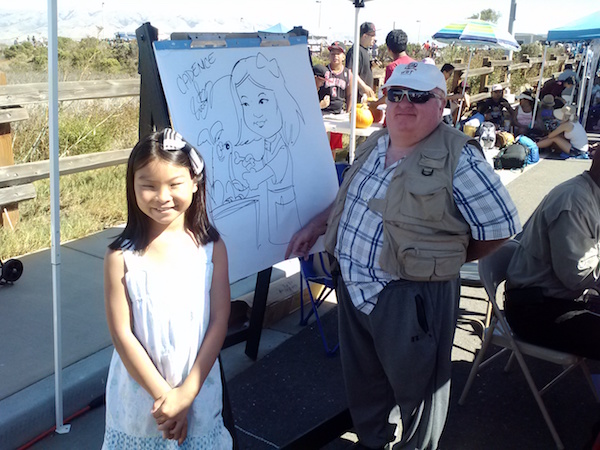 WeWrite helps Cabrillo College introduce 4th Graders to the college experience - 2015
Read the full article (with video) in the Santa Cruz Sentinel
WeWrite holds local event for author and artist - 2015
WeWrite held an event for author Wallace Baine and illustrator Joe Barcelone
at Coffee Nine in Ben Lomond, CA
WeWrite Now Offers Six Titles on iTunes
WeWrite has begun releasing new titles as well as previously published titles on iTunes as ebooks in the Apple iBookstore.
WeWrite is pleased to announce our iBooks:
The Last Temptation of Lincoln and other TwiStories by Wallace Baine for $9.99.
Trash Twisters for $3.99
A Goo Idea! for 99¢
We're All Moving! for 99¢
Mr. Lincoln and the Time Train for $1.99.
WeWrite and Artist Norman Calmese Launch "Sports Kids Read to Lead" Literacy Campaign
Santa Cruz, CA—When artist Norman Calmese created a building-sized mural in 1997 to cover graffiti in a "Painting the Community with the Arts" program, he had no idea it would lead to publishing a powerful children's book years later. At the time, Calmese simply wanted to involve children in helping to paint his sports story with hopes of improving community pride.
The mural about a boy who loved sports was expanded to a written story called "The Sports Kid" by a group of children in Illinois. The stylized drawings in black and white told the story of a boy who wanted to focus on sports but not homework. Yet the story ended by showing that both sports and school are cool.
Inspired by efforts of various sports leagues to promote reading, California-based publisher WeWrite and Calmese are bringing the timeless story to new life by releasing the book this spring. It is the core of WeWrite's new literacy program, "Sports Kids Read to Lead," targeting early readers. Plans include additional books spotlighting current children's topics as Eddie grows up, along with songs and music to accompany the books. The easy-to-read story sports something for all ages with Fun Facts, games, and a secret message.
Calmese is excited about the project, as he and many of his friends lived Eddie's story of struggling to incorporate their passion for sports into their education. "This is awesome and has huge potential," he said. "Now children everywhere can read this powerful, yet simple story that began so long ago in Springfield, Illinois."
With sports leagues, community groups, and visionaries leading the literacy effort, WeWrite and Calmese are offering the book for sale as well as sponsorship opportunities in customized printings of the book.
Mike Pittman, Illinois community leader, entrepreneur, ex-professional baseball pitcher and publisher of the newspaper, Capital City Courier, could be the poster boy for The Sports Kid. "Like Eddie, I loved all sports, especially baseball, and even became a professional pitcher for the St. Louis Cardinals. Like Eddie, I decided to stay in school and it helped me achieve success in more ways than just in sports. The Sports Kid is great for every kid and we want to help promote this campaign."
Ben Lomond's WeWrite creates books for children, written by children
Posted: 12/26/2012 03:22:46 PM PST
An illustration from the book Mr. Lincoln and the Time Train
Writers and publishers face a daunting task of keeping literacy and love of reading strong with younger generations who may one day grow up in a world where physical, ink-on-paper, non-electronic books become an antique speciality item.
The Ben Lomond-based company WeWrite is doing the work of keeping literature alive with young people in a very direct and literal way. WeWrite publishes books for children, written by children — and not individual authors who happen to be kids, but groups of children, conceiving and writing stories while working together.
Over the course of almost 20 years, the company has released around 50 titles of short fiction and non-fiction illustrated books on everything from science to history. The release of Steven Spielberg's "Lincoln," for instance, has revived interest in WeWrite's 2003 book "Mr. Lincoln and the Time Train," a fanciful "It's a Wonderful Life"-style tale of what America would have looked like had Lincoln not delivered the Gettysburg Address.
The company's president Delores Palmer said that she brings together a hand-selected group of children typically for two three-hour workshops led by an adult facilitator and illustrator.
"We didn't want children to think that a book just pops up out of thin air," said Palmer. "We want them to know that it's going to take a lot of work."
Palmer said she likes to work with groups of about 10 to 12 children, with no more than three years in age separating the oldest and the youngest.
The first day is spent working out the narrative storyline on the theme of the day. To prevent a few of the more outgoing or demonstrative children from designing the whole story, plot points move forward on the basis of a vote of the whole group.
After the first session, the kids are given a copy of the book's first draft. They then review and edit what they've created thus far. At the end of the process comes an attractive storybook complete with illustrations, photos and/or supplemental material.
The idea began back in the mid 1980s when Palmer was working as a library director in central Illinois. The state established a Young Authors program for children and she decided to publish many of the submissions to that program.
"We published about 80 titles that first year, and about 120 the year after," she said.
She began the company in the days before desktop publishing was widely practiced in 1993, and relocated from Illinois to Ben Lomond 10 years later.
Palmer said that the books published by WeWrite are conceived with eye toward a specific market or demographic, and the company courts companies or organization to act as funding sponsors. A WeWrite book titled "All Dried Out," for instance, that focused on water conservation was sponsored by Santa Cruz's Ewing Irrigation.
Palmer said that she also focuses on creating markets for the books "for kids, by kids." A WeWrite title called "We're All Moving" -- a 2012 update of a 1999 volume -- is about a group of four-eyed aliens who move from Jupiter to Earth.
"It's really about what happens when you have to move from one place to another," said Palmer, "and addresses what kids feel when that happens."
To sell the book, Palmer reached out to various moving and storage companies as well as real-estate agents, two commercial groups that could use the book in their own marketing.
WeWrite is also developing e-book applications for their books, and is involved in reaching out to WeWrite alumni, kids who helped author a book who are now adults.
"The thing about these books is that they're not dated," said Palmer. "They remain relevant for a long, long time."
Copyright 2012 Santa Cruz Sentinel. All rights reserved. (Reprinted with permission)
Press Release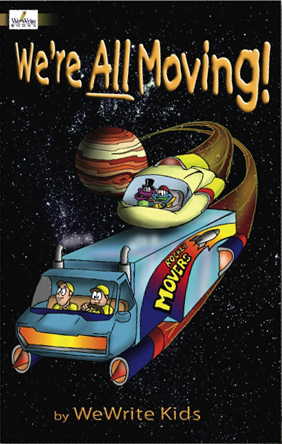 WeWrite Launches Book Series By Kids for Kids
April 10, 2009, Santa Cruz, CA
Community leaders are partnering with children to develop a book series for kids, beginning with the topic of moving—a concern not only to children, but to seniors, and even pets. The book, We're All Moving!—co-authored by WeWrite Kids—will explore questions about how alien kids, their grandfolks and a pet creature will adapt, following a move from Jupiter to their home on Earth.
Community Leaders Support WeWrite Kids
Paul Yeadon (left), owner of AIM Mail and Print Center, Los Gatos, California welcomes WeWrite Kids and parent Cathy Phipps (right), for their book-writing workshop.
AIM Mail and Print Center, Los Gatos, CA hosts a session of the We're All Moving! book-writing workshop on April 25, 2009.
Mike Aguilera, producer of the Baby Boomer Senior Expo 2009, Santa Clara Convention Center peeks in on the progress of the We're All Moving! story during the show, April 26, 2009.
Kids Author Program Targets Non-Readers

By John Sammon of the Santa Cruz Sentinel
A literacy program designed to get children reading by involving them in the nuts and bolts of publishing a book, and giving them the pride of authorship, is targeted at kids who don't customarily like to read.
"In that way, we're unique in the publishing business," said Delores Palmer, president and CEO of WeWrite LLC, a Ben Lomond-based publishing house. "We've been doing this for fifteen years. We gather the kids together, and capture their words." The firm will sponsor book two writing workshops to be held April 25 at the Aim Mall and Print Center in Los Gatos, and April 26 at the Santa Clara Convention Center. The event will feature several area children, a nationally known illustrator, and a musician who will create a song for the project.
"The kids come up with the ideas for the book," Palmer said. "What we're trying to do here is get kids hooked into reading."
The children are provided a theme, and led by a facilitator, given free license to think up the book's story while their comments are noted down and an illustrator sketches their ideas. The end result is a 64-page full-color educational book that becomes available for purchase at participating book stores across the country.
An average print run is 10,000 books, at a total production cost of $70,000 (individual books retail for $11.95 in bookstores). The cost is made back by sales to the general public, or corporate sponsorship and distribution. Companies sponsoring a book can use it as a marketing tool, for promotion of a particular industry, or as a fund raiser. A writer and former library director in Illinois, Palmer founded WeWrite in 1993. She said the idea of involving children in the production of books proved an instant success. "Children just flocked to it," she said. "The children get the experience of a lifetime. They see their names on the book, and they get their pictures in the back of the book. They're so proud."
The children vote amongst themselves on what ideas go into a book, and also take part in the editing process, offering ideas on what changes should be made. Angela Hesse of Ben Lomond, 13, said the fun was making up a story. "It was awesome to be a part of it," she said. "It's fun to be creative."
Palmer said the experience also gives the children a chance to interact with adults who value their comments and ideas.
Past efforts produced a book about children's thoughts in the aftermath of the 9-11 Trade Center bombing titled "War? I'm Scared!" Another envisioned what the world would have been like without Abraham Lincoln, titled "Mr. Lincoln and the Time Train," voted best children's book on Lincoln by a historical organization, the Lincoln Group of New York. Yet another project is all about a family moving from Jupiter to Earth titled "We're All Moving."
Palmer said the joy of authoring a book generates enthusiasm for both writing and literacy. "The children say to themselves, I can do this," Palmer said.
People interested in the program may call 831-336-3382, or go to company's website at Wewrite.net for more information.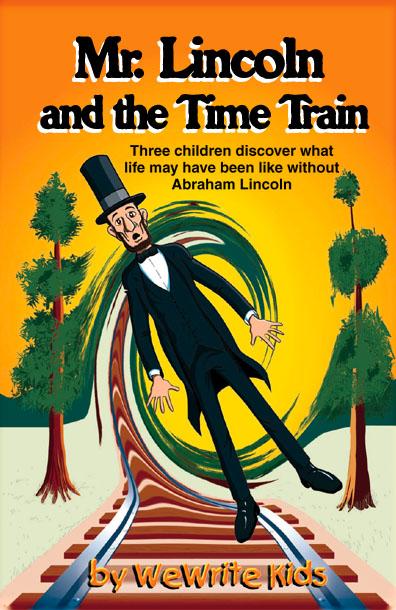 WeWrite Receives Award
"AWARD OF EXCELLENCE"
The Lincoln Group of New York cites the WeWrite Company for
"MR. LINCOLN AND THE TIME TRAIN"
as the BEST LINCOLN CHILDRENS' BOOK FOR 2004
"The award committee was so impressed and enthusiastic over your book's concept and execution, that we felt that we simply HAD to somehow recognize it. We feel that it will encourage the further study and appreciation of Lincoln among youngsters, and commend everyone who played a role in its creation!"
Richard Sloan, Lincoln Group of New York (www.lincolngroupny.org)
Publisher Offers the Write Stuff for Children

By Britta Wilder Ross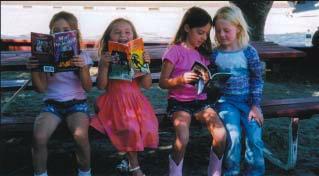 Imagine your child heading off to school, not just learning to read a book…but to write one, too.
Dolores Palmer, a Ben Lomond resident and President and CEO of We Write Company, has gone from imagining the dream to making it happen.
"The children are so proud…they feel so important," Palmer said of the unique writing program. "And it turns what can be drudgery into fun."
Palmer, a former library director in Illinois, founded WeWrite in 1993. As a creative book-writing workshop, a group of children would brainstorm and act out a story, while an illustrator would be on hand to do sketches. The power of the process became evident when the students not only learned how to collaborate with one another, but how to develop their ideas into stories, too.
"The children just flocked to (the program)," Palmer said. "It's the opportunity of a lifetime."
Palmer and the WeWrite staff of 10 contributors coordinate their projects nationwide, based upon demand and interest. For example, following the Sept. 11 attack on the World Trade Center and the Pentagon, WeWrite assembled a group of children to sit down and discuss their thoughts and fears on war and the world. Out of these sessions, a book War? I'm Scared! was produced and released in a timely fashion, one month later.
"We find a client, then a funding source," Palmer explained of the process. "Once the sponsors get interested, then we organize a group of children."
From pitch to page, the process is efficient and surprisingly quick. Once the students have been selected, WeWrite representatives meet with the group, present an idea and the brainstorming begins. Photographs are taken, sketches are made and, as is often the case, television or media will come to film the event due to its, literally, novel approach.
"It's great publicity for the school, too," Palmer said.
What's equally great is the "free-flow" format of the process, allowing for a democracy of ideas to shape the story. Suggestions are voted on by all participants, not just outspoken members of the group, and all of the children are able to contribute something, regardless of their drawing or reading skills.
"Not all of the children need to read or write at a certain level (to participate) and, since ideas are voted on, everyone has equal say in the story," Palmer said.
Sponsors for the 55 books already published - five of which are geared for adults - include a range of corporations and businesses.
Among the sponsors are Barnes and Noble Book Stores, as well as federal agencies such as the Abraham Lincoln Presidential Center for Governmental Studies, whose interest in bringing the story of Lincoln alive through children's eyes resulted in the recent WeWrite publication of "Mr. Lincoln and the Time Train."
Hester Elementary School in San Jose just completed "A Goo Idea" - a look at financial literacy - in partnership with motivational training organization Common Sense Leadership. The Santa Cruz Children's Learning Museum is currently considering a project with Franklin Marshall to publish a book on the amazing life of slave-turned-philanthropist Louden Nelson. Local organizations can also join forces with schools to collaborate on such pertinent topics as health and safety issues.
Currently, Palmer is working to enlist a group of young authors to consider the important message of staying fit and warding off the growing epidemic of childhood obesity.
"We want to help children 'fight the fat monster," Palmer said, adding that by enabling youngsters to write the text "we will toss it back to the children and empower them to make good choices."
At a time when school programs have been pared down to basics, WeWrite offers an educational upside as well as the benefits that come from the obvious pride of having written a book. In addition, the books can be used as fundraisers for school campuses, and beyond. Subject matter of national interest could result in a local story being read by a child across the country, with the lasting value going beyond the page - even perhaps to a future career in writing.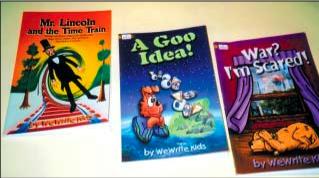 It seems at WeWrite, the stories and possibilities are endless. And for Palmer, the reward of facilitating the creative genius is boundless, too.
"It is so much fun," Palmer said. "After 10 years, everyday is still so exciting."
For further information on WeWrite, contact Palmer at: 831-336-3382; fax: 831-336-8592 or visit the Web site at www.wewrite.net.
Good Kids

By Ralph Hipp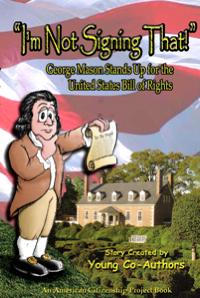 President's Day is February 16th. New books are being released about George Washington and Abraham Lincoln. But here in Topeka, there's also a new book on the shelves about George Mason. He's the famous Virginian who refused to sign the Constitution without a Bill of Rights in it!
The book called I'm Not Signing That! was unveiled at the Carlson Federal Building. First Gentleman.. Judge Gary Sebelius.. Received the first signed copy. The 13 authors later appeared at a local book signing. They told us how they spent several hours at Washburn University in August compiling their ideas on what they'd learned about George Mason.
Writers from WeWrite Company wrote down everything the students told them. Illustrator Troy Freeman drew pictures to go with their story. But they say the best part was interviewing one of the experts on George Mason at Gunston Hall, his Virginia home. None of them knew anything about this famous man who played a major role in the creation of America by demanding a Bill of Rights. Now they say their book will help other students learn more about him.
Press Release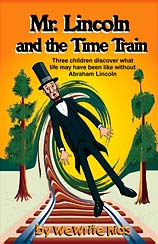 KID'S BOOK COMMISSIONED BY ABRAHAM LINCOLN PRESIDENTIAL CENTER - Available Now!
Springfield, Illinois-January 25, 2003
Three children discover what life may have been like without Abraham Lincoln in an exciting new book written by kids, for kids. Mr. Lincoln and the Time Train was released in mid-February.
Co-authored by 14 children ranging in age from 7 to 10, the story sends Abraham Lincoln time-traveling from a train heading toward Gettysburg to modern-day Springfield, Illinois. Serious and delicate issues are handled profoundly well by the amazing young co-authors.
Press Release
STATE FAIR KID-AUTHORS GIVE AUTOGRAPHS!
Springfield, Illinois-August 15, 2002
Twelve young writers from across Illinois gathered recently to autograph the book they wrote commemorating the 150th Anniversary of the Illinois State Fair. Their limited edition book, entitled State Fair Time Warp, was published just in time for the State Fair, and promises to be a lasting souvenir for participants and Fair-goers alike!
Press Release
SPRINGFIELD SENDS OFF GIANT LETTERS TO TROOPS
February 19, 2002: Springfield, Illinois
What started as a way to say "thank you" to military personnel soon evolved into a growing campaign. Delores Palmer, of WeWrite Company, has a daughter on the USS Pearl Harbor and she wanted to show her appreciation for efforts of all military personnel. Giant, 9' x 12' canvas letters and notes to troops seem to be a flexible, durable way for Americans to say what is in their hearts...
Press Release
GOOEY SAVER CAPER
San Jose, California-February 15, 2002
Ooey, gooey! A group of children from Hester Elementary School in downtown San Jose are about to become published authors. A few months ago they got together at a special workshop and brainstormed. They came up with a story about aliens on a gooey universe who learn all about saving money...
Press Release
KIDS FIGHT WAR WITH BOOK
Springfield, IL, December 4, 2001
Days after the attack on America, eight children gathered together to wage their own attack on terrorism. Determined to show the world that kids can create solutions too, these 8 - 11 year olds published their own book, by kids for kids. Downtown Springfield businesses are showcasing the book, War? I'm Scared!, authors, and illustrators with a treasure hunt book-signing throughout downtown, Saturday, December 15, noon - 3:00 pm..